To get the most out of task management you should plan out your course of action. It doesn't matter if it's for a personal or corporate mission the main theme remains the same.
At the corporate levels, tasks can be assigned to individuals or teams depending on their complexity. A team leader is assigned to a project that involves more than one person.
What is Task Management?
Task management is the process through which a task goes from planning to reporting. It works at an individual level or for a company to attain set goals.
You can accomplish this by setting specific goals then subdividing into doable goals that you work on from start to finish. The tasks that the organization or you must do are divided into various categories. They are not all equal. Tasks vary from low to high quality.
Every task goes through a set cycle and it's the work of the team leader to assign duties and make decisions. Make use of task management software that assists you in organizing and managing all the different parts of the task(s).
The report is the final piece of the puzzle that produces results from the assigned project. It helps those in management positions make accurate assessments or an individual analyze attaining set goals.
Task management works best with a set of tools used to monitor the cycle of each task. These tools are important for individual and corporate use. They come in the form of task management software that is common in many offices.
Some of this software is free but for detailed ones, you must pay a fee to purchase once or maintain a subscription. Companies make use of the software for day to day analysis of their productivity but you can use it to keep track of personal progress too.
For corporates, the size of software used depends on the tasks at hand, how big they are, what they require, and the number of people on the team. For those that can be handled by one person, the size is smaller than those that need a team set up for various departments.
Task management software is tailor-made for individuals, mid-level, and large companies use.
Team leaders must make sure each member of their team is kept aware of the progress every step of the way. Within this software are specific tools for this purpose providing a view that is accurate and in real-time.
Each member should be able to access and get a hold of all content relevant to the tasks at hand. The leader is in charge of all features that administrative on the software.
Administrative features play a key role in delving out responsibilities to everyone on the team, changing assignments delved out, increasing the time limit, and assessing the final output.
The team leader must set up a central point from where the progress made by the team is assessed in totality. This way he/she can assess whether the progress is good so far or certain changes should be made to increase efficiency.
The software provides real-time information of all tasks that are completed, overdue, and in progress. Also included is whether those completed were successful or should be handled from a different approach. This information is all found on the final report that the team goes through at the end of the tasks.
The Importance of Task Management
Whether you are working on individual goals or part of a team at the office, task management is important on each level. Every person is faced with a multitude of tasks to complete each day.
At the office, you have a to-do list that never runs low of tasks to accomplish. Without proper management of these tasks, it's easy to lose track of some that are left undone. With this software, both high and low priority tasks are completed.
Task management works wonders for your productivity. You become more organized and the output speaks for itself. Nothing falls through the cracks as you handle all that is on your to-do list.
As a leader or an individual working with task management software, start by jotting down all that needs to be done. Include both low and high priority tasks. Once you have all of the written down, you get a clearer picture of what needs to be done.
Having a list of all the tasks despite their priority level increases your productivity. Your focus for one benefits from knowing exactly what needs to be done. Having a vague idea does little to boost personal productivity.
Writing it all down serves as a guide throughout the cycle of all the tasks. For those that require a team to be assembled, a leader uses the list to assign duties. Depending on the strengths of each team member, delegating makes the work ahead easier.
An in-depth look at the tasks is needed once the team is assembled. Apart from low and high priority tasks, some are urgent. Members should handle this first then start working on the high priority tasks. Urgent tasks require immediate attention before you can proceed to any other task.
5 Task Management Tools Compared
Taskworld
Taskworld is one of the most sought-after task management software that larger corporations can use. Not only is it pocket-friendly, but it also has many features that come in handy throughout the project. It's one of the most effective tools making it easy to complete each assigned task with few hitches.
The world first got a glimpse of this software back in 2012 and it has managed to get the attention of the largest corporations in the world. House-hold names such as Volkswagen and Sony are avid users of this software.
The main way Taskworld is organized is by what is referred to as Projects. Each project is divided into Tasks then Task lists. A team gets to mark all accomplished tasks as they work from top to bottom of the written lists.
An app is the best way to create a Task list but alternatively, you can write an email to the provided address. Once the list is clear, the team leader delegates the tasks on each list and sets deadlines.
Each task that is delegated can get a custom made reminder of the upcoming deadline while tracking time spent on it. Points are assigned to each task that has a reminder set.
This is a unique feature only found on this software. The software comes with a storage space of 100GB in case you want to upload any information on the Professional Plan.
Jira
Jira is one of the best task management software in the market but you must know how to use it. It's better suited for a larger corporation due to added effort needed to use it but works for small businesses too.
It was launched back in 2002 and has a host of vital features that every member of a team can benefit from. Jira needs time to master. The best step for any team or small business is to start with the training that it provides. This way you can navigate its complexity easily once you start managing tasks.
It's an in-depth tool but needs more fine-tuning from the creator. Still, any team using it will find it insightful and detailed. You can configure it to suit any situation but requires patience when putting it together.
A host of 3000 apps is available to anyone who subscribes to Jira that benefit in functionality. Each of these apps requires payment but is affordable. For added use, you can opt to integrate it with other platforms for increased productivity of the team.
Jira has a tracking feature that keeps an eye on all the time spent on the tasks increasing efficiency. Each project is backed up on the Backup manager connected to the Cloud for future reviewing. It comes with 250GB storage space and has the option of exceeding the limit by a small margin.
Mavenlink
Corporates that like everything run in order are best suited for this task management software due to its design. It has systems built to efficiently tackle each task on a certain project.
Additionally, the team gets to use an accounting function built into this software. This is a more detailed tool that is a favorite of many companies and businesses. Though complex in its features, it's designed for easy use and understanding.
The additional accounting features help generate financials for all the projects which helps in tracking the costs of each. The content is generated automatically once configured adding to its convenience. You can opt to produce invoices from payment services such as Paypal.
The top currencies in the world are used here. Use it to set up tasks on each project and write notes on the progress. A great benefit is the ability to add up all the time spent on each task and determine how long each project took to complete.
Monday.com
Monday.com is fairly new on the market and was launched back in 2014 but has managed to create a name for itself. It boasts of some of the biggest corporations in the world using it such as DHL and Phillips.
Not only is it an affordable task management tool, but it's also easy to use and produces efficient output. It has different plans to choose from which vary in pricing. Choose the plan to subscribe to depending on the features the team needs.
The first plan provided is the basic plan that has a few features. You can use activity log, Kanban view calendar, timeline and views of maps. Higher levels unlock more complex features such as chart views. To better manage the time spent on each project, make use of the time-tracking feature.
Storage varies from one plan to the other. The lowest provides users with only 5GB while the highest has no set limit. You can benefit from integrating a whole host of platforms adding to the efficiency of the work at hand. When setting up a project, you should use a Board that appears as a new screen. Each board has items set up in groups listed depending on priority.
Assign each task on the board's list depending on its urgency and the number of people required. A deadline is created from the start date of the task to when it might be completed.
Asana
Task management software tends to be quite complex and Asana is a good place to start. It's a simplistic tool that small businesses can use on a variety of projects. It has a user-friendly interface though you might lack the more complex features.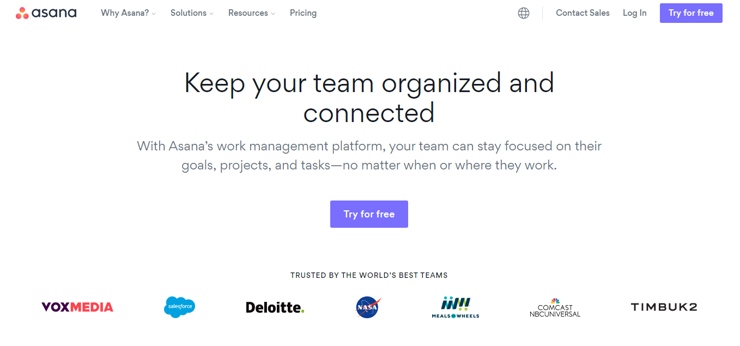 It was launched in 2012 and its list of users includes NASA and the New York Times. For every project listed on Asana, team leaders must include tasks and subtasks to work on.
All these tasks and subtasks are split into a variety of sections and assigned to members of the team. The team leader should evaluate the strengths of each member and assign them a task accordingly.
Another option is assigning a task or subtask to more than one member then keeping track of their progress. This works efficiently in large or urgent ones.
Storage space is restricted to 100MB. Seek additional space for files that are larger than this set limit. Opt to make certain tasks dependent on others by making use of the dependency management feature. It's a great efficiency tool ensuring all members of the team remain productive until the project is complete.
Conclusion
Most task management tools are divided into a variety of plans priced differently depending on features. There are some suited for individual use and those for small businesses and large corporations.
Task management makes the workplace efficient and productive by getting things organized. Once a project is divided into tasks and subtasks, it gets easier to plan out an action plan and gather a team. Each member gets their assignment and the software tracks their progress and duration spent on each task.